In the 90's Gillian Anderson became famous for playing the character of Dana Scully, the non-believing FBI agent in a world of aliens and monsters. Since then she has been in multiple shows, movies, and doing live stage plays where her skill as an actress has grown. While at Dragon Con 2016 Gillian Anderson took the stage in one of the large ballrooms to talk to her fans about all sorts of topics ranging from X-Files to personal feelings of some fans. 
Out of all the talk and information that was given in this panel, the one thing to take away from it was how funny and entertaining Gillian Anderson is. When she came out on the stage and took her seat, she wanted to start her panel with a question she was told to ask us. She was told to ask about the Waffle House and after the laughs and applause that rang out in the ballroom, the moderator told her about the ways the Waffle House does omelets. This was actually pretty funny, especially with the reaction that Gillian Anderson had to hearing about the way omelets can be made.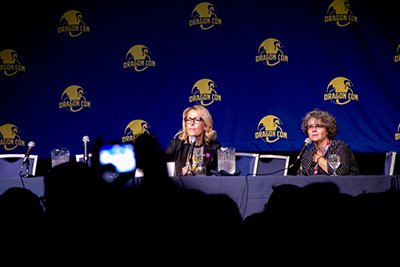 There was a lot talked about in the grand ballroom, which was filled to its capacity of 2,000 people, and I would bet more was there as there was some people standing. Though Gillian Anderson has done many things in her career, most of the fans wanted to talk about the X-Files. Of course one of the usual questions that is asked at the panel was which episode was her favorite to do on the X-Files. Her answer took a little thought, as she said with there being over 200 episodes and being that it was awhile ago that they where done, she finally came to the conclusion that her favorite was, "Bad Blood". She also informed the fans that not only was the X-Files a good show but it was also a show that was the start of some now famous actors, like Ryan Reynolds, who she said she must have had that day off because she didn't remember meeting him. 
A few other topics that she touched on was more serious matters then what she liked about doing on the X-Files. Though she did say that one of the things she liked the most about the new X-Files series that recently was aired was getting to work with David Duchovny again. One topic that came up was how she felt about equality for women in the industry. Not holding back, Gillian Anderson had this to say about the topic with her own experience in the matter. When she started with her answer she explained that when she first went into getting paid it was when she was still young and had no experience. She didn't know that the show was going to become what it did and she explained that when she got hired for the show she was still new while David Duchovny had past experience so got a bigger pay. But she then went on to talk about how things begun to change for her when she did get the experience.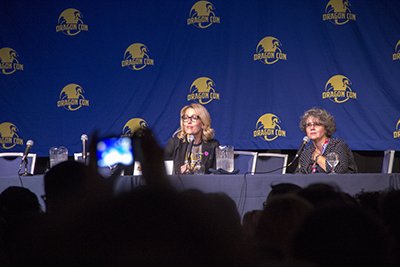 "There was a point when I started to get a fee closer to David's because we were literally equally successful and that was a struggle to get there."When the first feature came around, I was offered half of his pay and I said no…it happened again in the last series. It doesn't make sense. But I think because there is so much attention on it – Meryl Streep and Patricia Arquette and Jennifer Lawrence all shined a timely light on something that has existed a long time. Knowing people who are in the area of making those decisions, it's complicated. The idea of equality, it's a very big issue. At the very least, people in position to make those decisions are looking to make changes." 
A few questions where asked to her about her thoughts on her and Dana Scully being a role model. Her response was honest and a bit funny when she said that she had been young and never expected the show to "be picked up for and picked up for eternity". But as for her and the character being role models, she was glad she could be that. There was a slight discussion about how the percentage of people wanting to work at the FBI as well as the amount of females wanting the job and wanting to go into the field of forensic science went up dramatically.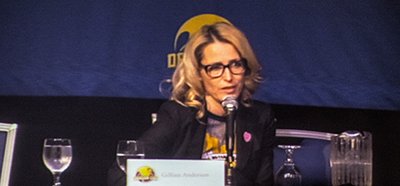 There were a few compliments given to Gillian Anderson on her looks, which I have to admit she has only become better looking as she has aged. With a few thanks and a last few laughs, her panel came to an end and I was pleased that I was able to be there to hear her talk.