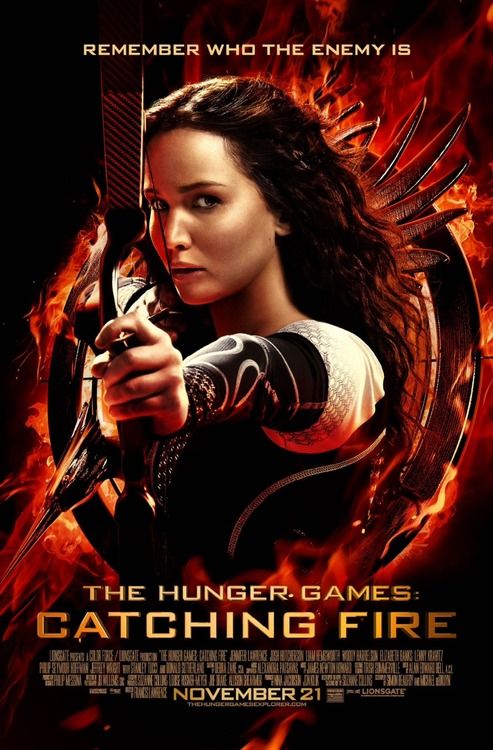 The cinematic poster for Catching Fire was released this past week. I love the bold and fiery colors! Check out the digital poster and the international versions too, they're fantastic!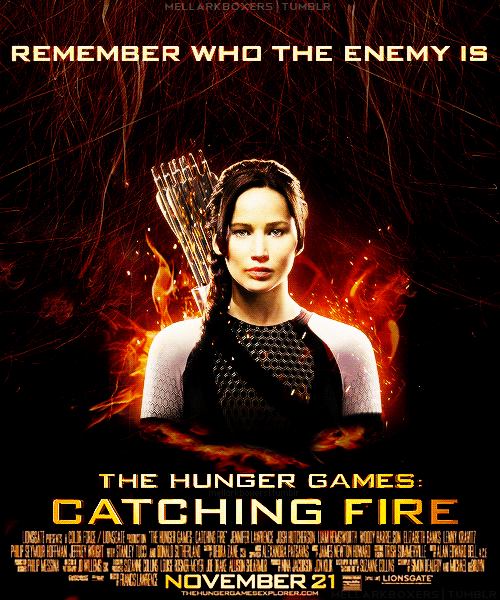 Did you purchase your CF tickets yet? There's still time! Tickets for the movie are on sale now over at Fandango and Movie Tickets.
I think I may take advantage of AMC's The Hunger Games Double feature! You even get some swag!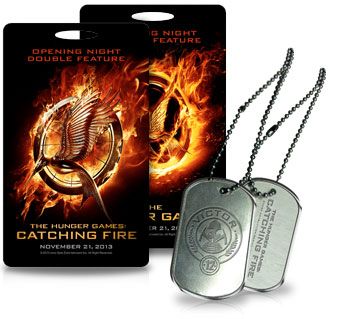 AMC Theatres(R) and Lionsgate Present THE HUNGER GAMES Double Feature at 250 AMC Locations
Tickets on Sale Now for AMC Guests to Catch Up on the Epic Story with a Showing of THE HUNGER GAMES Leading into the 8 p.m. Debut of THE HUNGER GAMES: CATCHING FIRE on Nov. 21
LEAWOOD, Kan., Oct 01, 2013 (BUSINESS WIRE) — AMC Theatres(R) is excited to announce the details of the upcoming HUNGER GAMES Double Feature, which will run at 250 AMC locations nationwide on Thursday, Nov. 21, and will finish with the release of Lionsgate's THE HUNGER GAMES: CATCHING FIRE. Tickets are on sale now at AMC locations and online.
The double feature, available in both traditional auditoriums as well as in IMAX, begins at 5 p.m. on Nov. 21 with a showing of the 2012 blockbuster hit THE HUNGER GAMES, allowing guests to relive all the action and suspense of Katniss Everdeen's first Hunger Games experience. The debut of THE HUNGER GAMES: CATCHING FIRE will follow at 8 p.m.
Fans attending the event will receive a limited edition lanyard and a commemorative gift at participating locations while supplies last.
Ticket price varies by location and presentation format. For more information or to purchase tickets, visit www.amctheatres.com/events/hunger-games-double-feature.
Entertainment Weekly is producing four different Catching Fire covers featuring Katniss, Peeta, Gale & Finnick!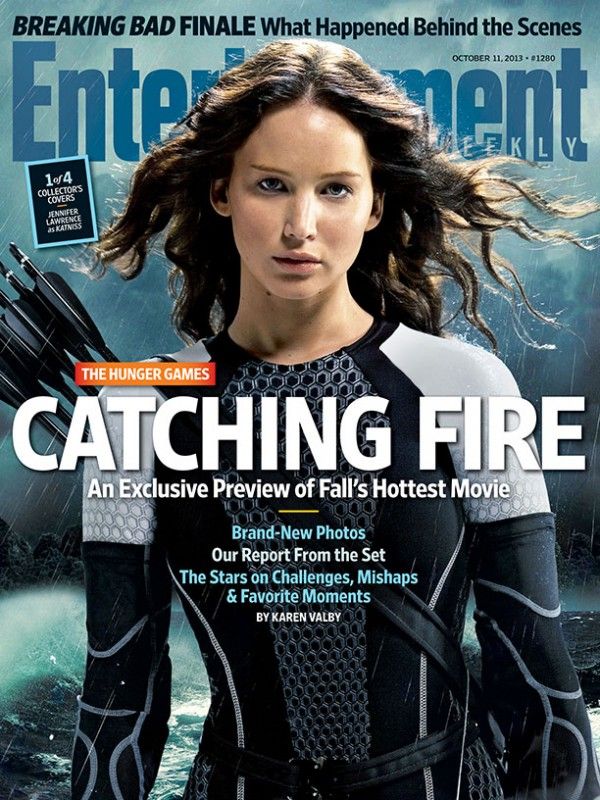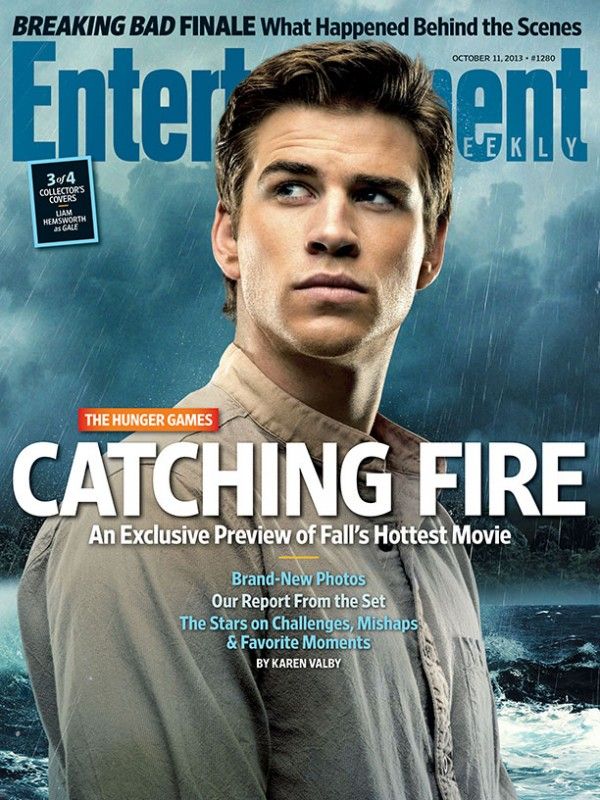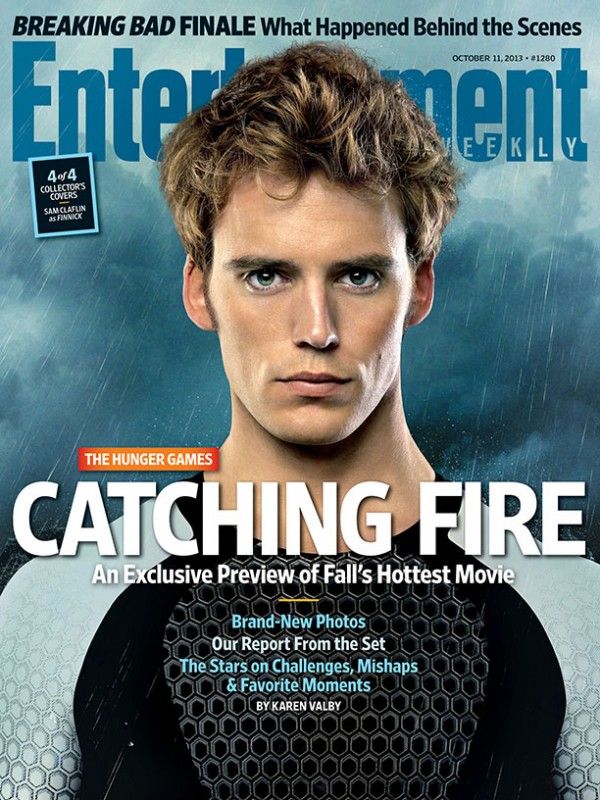 After a special report from the sweltering set in Hawaii, we head to Santa Monica, where EW reconvened the stars — along with new director Francis Lawrence and producer Nina Jacobson — for a rollicking conversation about the new movie. Among the subjects? Everything from the decision to "man up" Peeta's character for the movie to Lawrence's spectacular fall in Katniss' wedding dress while the cameras were rolling. The filmmakers also talk about creating new scenes for Plutarch Heavensbee (played by Philip Seymour Hoffman), and actress Jena Malone talks about the thrill of playing the ax-wielding tribute Johanna Mason. Despite the easy camaraderie of the crew, everyone took seriously their mission to respect the pained heart of author Suzanne Collins' sequel. "In every scene we asked ourselves, 'How would these people feel if they came back to the Hunger Games,'" says Jacobson. "What happens when you come back from these experiences of war, not what happens in a movie when you've kicked a lot of ass?" (EW)
Which one will you purchase? Will you buy them all?
Also, check out these new CF stills from EW!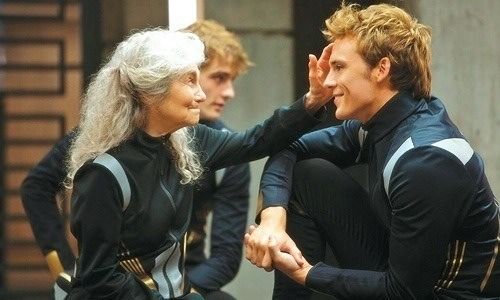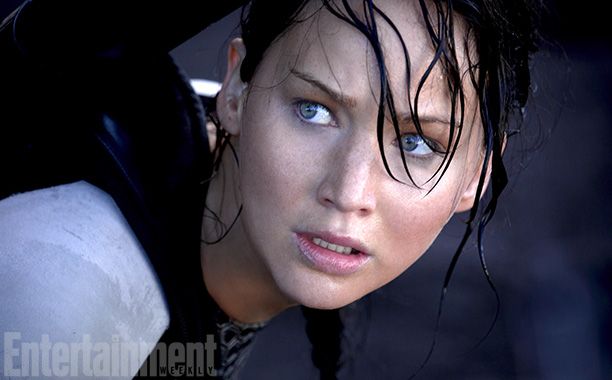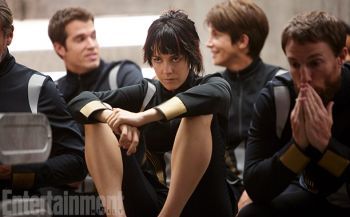 CF stars Josh Hutcherson, Willow Shields, Lenny Kravitz, Stephanie Leigh Schlund and Alan Ritchson shared details with Seventeen Magazine about their time on-set, how they prepped for the film and more!
Check out excerpts below:
"We did a lot of martial arts training. There's a lot of choreography where I'm spinning around and whipping these [knives] and rolling around. It was taxing, but it was a lot of fun!" —Alan Ritchson, Gloss
"I kept one thing from the set. There's a leather jacket that Cinna wore in some scenes, and I had to have it. I made sure that it went with me." —Lenny Kravitz, Cinna
"It took 20 minutes [to do my face makeup] on days where I had a bad breakout—which happened a lot on set! Covering up my tattoos adds another hour and a half. —Josh Hutcherson, Peeta
"We had a lot of down time on set, so the Tributes and I would all hang out together and watch movies. Alan Ritchson [who plays Gloss] and I shared a trailer, so people migrated toward us. Our trailer always had someone in it!" —Stephanie Leigh Schuland, Cashmere
"Jen liked to make fun of me—in a good way! She would always talk to me about everything going on in my life, like school. Same with Josh and Liam. They're like my siblings, except we don't fight!" —Willow Shields, Primrose
"The Cornucopia scene took us weeks and weeks to shoot. It's kind of funny because what could be just five seconds on-screen in the movie probably took us a week and a half to film. For me, it's a month of memories, but some of the segments are going to go by so fast!" —Alan Ritchson, Gloss
In a new interview Glamour, Josh Hutcherson talks about returning for Catching Fire, the infamous Team question and identifying with Peeta Mellark. (hunger-games.net)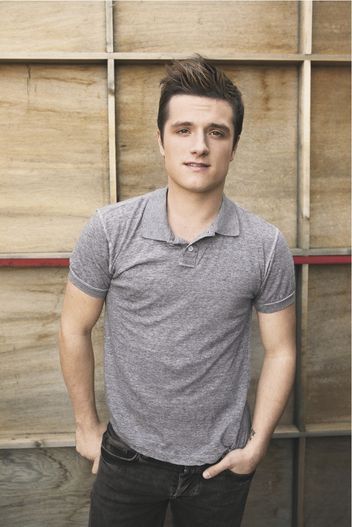 GLAMOUR: What was it like being back on set with everyone?
JOSH HUTCHERSON: Jennifer [Lawrence] and I were nervous about our new costars because we're kind of crazy when we're together, so it can be a little scary for the new people. But everybody jumped right in. It was a fun vibe on set.
GLAMOUR: You and Jennifer are friends in real life. Is it weird having to switch to a romantic relationship on-screen?
JOSH HUTCHERSON: It is. There are times when we've had to cut because we can't get through a take without laughing.
GLAMOUR: We have to ask: Team Gale or Team Peeta?
JOSH HUTCHERSON: I'm definitely Team Peeta! But Katniss's dilemma is very real—it's hard to know who to choose when you admire two people who are so different. The love triangle gets played up a lot more in Catching Fire.
GLAMOUR: You've said you really identify with Peeta. Why?
JOSH HUTCHERSON: Katniss is an "I'll just shoot somebody with an arrow" person, and Peeta is a "Let's talk this through" kind of guy. I have his mind-set.
GLAMOUR: How do you handle the pressures of fame?
JOSH HUTCHERSON: I don't think I'll ever get used to it. I have two-pointsomething million followers on Twitter, and if I say something, they all listen. It's crazy! I shouldn't be allowed that responsibility.
Read more here.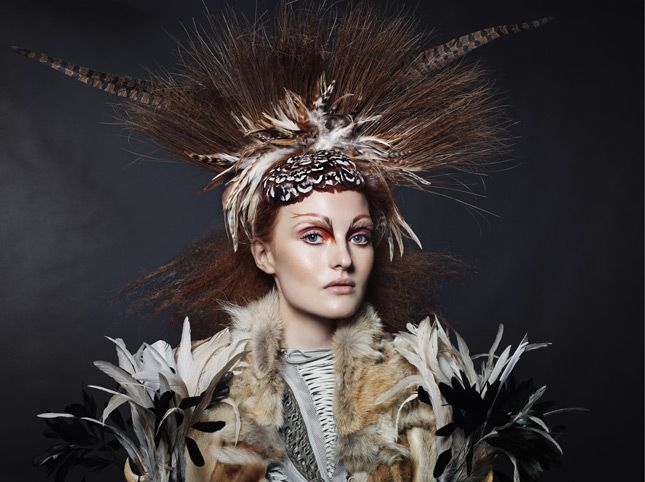 The Capitol's makeup artist Dotti created another avant-garde look for the rustic representation of District 10 using earthy tones from the brand's Flamed Out Collection and had a blast creating the look. "The eye was an adventure," she admitted, "It's easy, breezy, livestock." (panempropaganda)
Allure has given us a sneak peek at Capitol Covergirl's latest District-inspired looks from District 8: Textiles, and District 3: Technology. (panempropaganda)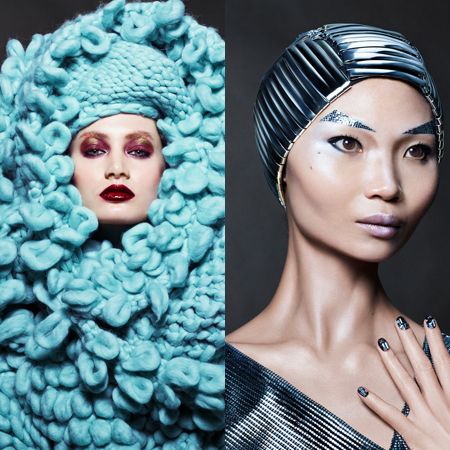 Capitol Beauty Studio has interpreted two more District's looks. Our Masonry District and our Transportation District come to life in the hands of Capitol make-up artist, Dotti, with products from The Capitol Covergirl Collection (panempropaganda)

Visit Capitol Beauty Studio for tips on how to make these looks your own and purchasing info.
Listen to Elastic Heart by Sia featuring the Weeknd and Diplo and Christina Aguilera's We Remain from the Catching Fire Soundtrack!
Pre-ordered your soundtrack and purchased your CF ticket? Don't forget the Hot Topic merch!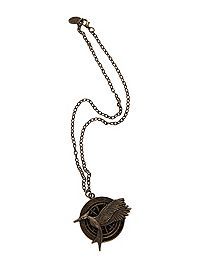 Mockingjay Peeps!
A leaked still from the MJ filming happening near Atlanta. I think this a scene from outside District 13. What do you think? (hunger-games.net)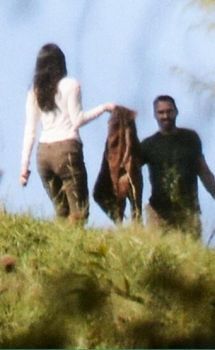 Actors and model twins Kim and Misty Ormiston have been officially cast as sisters Leeg 1 and 2 in The Hunger Games: Mockingjay movies, Lionsgate announced on Friday morning.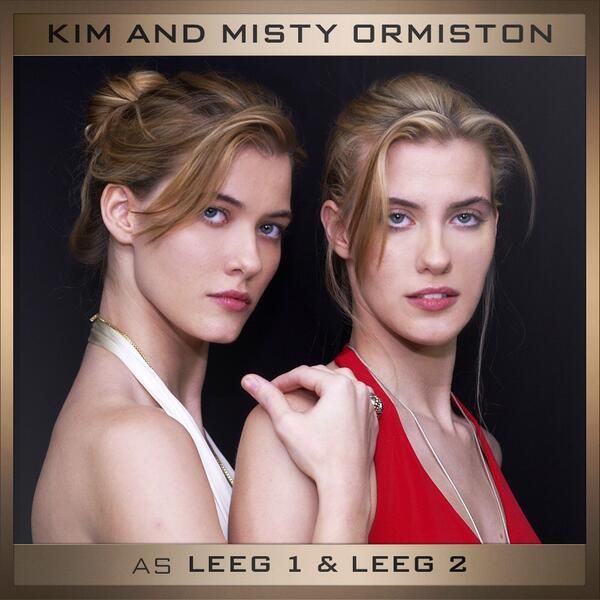 Leeg 1 and 2 are in their twenties and look remarkably similar, and are both soldiers with Squad 451, serving under Commander Boggs. (hunger-games.net)
See you next week, Tributes!