A new trailer for The Hunger Games: Catching Fire featuring Coldplay's Grammy nominated song, "Atlas" has been released.
Catching Fire has now surpassed The Hunger Games, bringing in $729,882,000 at the worldwide box office (the first movie earned $691,247,768). Box Office Mojo has a great breakdown comparing the two movies, both domestically and internationally. (The Hob)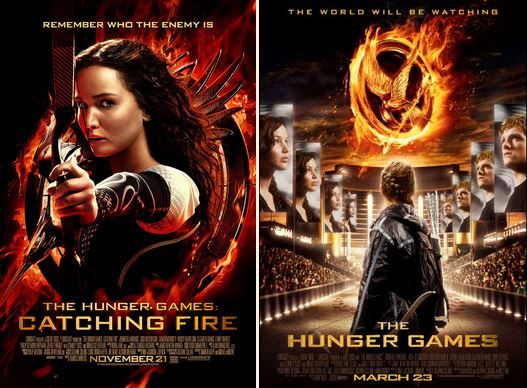 Domestic Total Gross
The Hunger Games: $408,010,692

Catching Fire: $356,982,000
Domestic Opening Weekend
The Hunger Games: $152,535,747

Catching Fire: $158,074,286
Domestic Per Screen Average
The Hunger Games: $36,871

Catching Fire: $37,971
Foreign Total Gross
The Hunger Games: $283,237,076

Catching Fire: $372,900,000
Worldwide Total Gross
The Hunger Games: $691,247,768

Catching Fire: $729,882,000
All Time Domestic Gross Ranking
The Hunger Games: #14

Catching Fire: #25
All Time Worldwide Gross Ranking
The Hunger Games: #62

Catching Fire: #56
This is super interesting! HG Fandom research reveals some surprising (and some not so surprising) findings!
Research firm Cubeyou has released a new study – "How Does The Hunger Games: Catching Fire Benchmark Against The Hobbit and Thor?" – that collected and analyzed interests, demographics, psychographic trends and MBTI personality traits for 1,652,725 fans of the three releases.
Here's what they found about Catching Fire movie fans:
67% are women, and two thirds of them are under 21 years old.

The majority are between 13 and 28 years of age. They are concentrated between 13 and 22.

78% are situated in the United States and 83% speak English.

51.2% are very fond of books, especially fantasy books such as Harry Potter, Twilight and The Hunger Games Trilogy.

75.6% are movie lovers. Not only are they fans of Catching Fire, but are very fond of movies in general.

60.3% are very interested in music. They appreciate singers like Katy Perry, Lady Gaga and Taylor Swift.

They are big fans of mobile games in general and have downloaded many apps to their smart devices. Their top game is Angry Birds and are enthusiastic gamers.

31.6% are sports lovers. They enjoy sports such as basketball and are core fans of players like Kobe Bryant and LeBron James.

They tend to be very quiet and conscientious. They consider others an important component in their lives and are always ready to give them support and at the same time look for their affirmation. (The Hob)
Do you see yourself in these stats? What would you like to research about the HG fandom?
Check out these amazing photos from inside the Marriot Marquis in downtown Atlanta! I freak out look at these pictures because I'm there every year reporting on Dragon Con. so I know exactly where this is!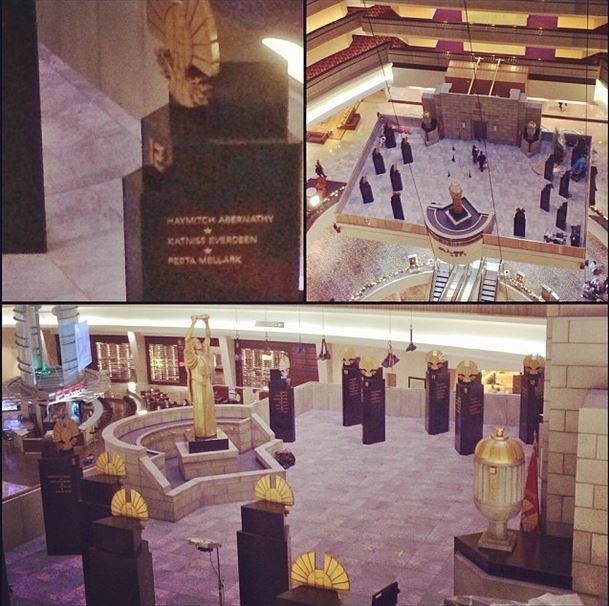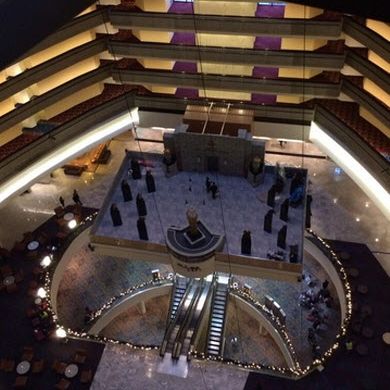 The Hob reports,
SPOILERS: A ton of photos and videos have surfaced from Mockingjay filming at the Marriott Marquis in downtown Atlanta over the weekend (you may remember this is where they filmed some Catching Fire scenes as well, including the infamous Johanna elevator scene).
Judging by these photos and videos, it's definitely a Capitol scene, and fans are guessing that it's the mission to rescue Peeta and the others – rumors are that both Liam Hemsworth and Mahershala Ali were on set (looks like Liam can be spotted in some of the pics and videos). If these guesses are correct, how cool will it be to see the rescue since it's not something we were able to see from Katniss' POV in the book!?
Capitol Couture profiles Finnick Odair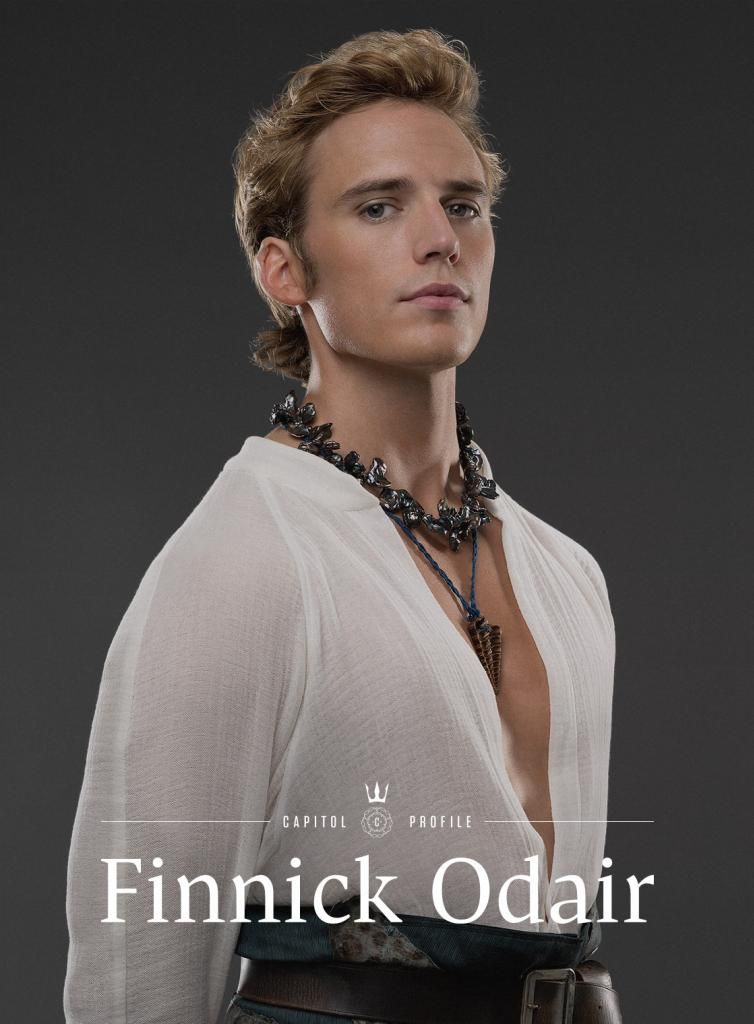 For the Adonis, who's known for tying intricate knots and tossing a spear with laser-like accuracy, there can be no distractions. The Games require new skills and the Capitol is watching him closely. (We caught up with Odair just before the start of the Quarter Quell and he was deep in training.) Victors, unlike tributes, already understand the mental and physical duress that awaits them. Odair couldn't discuss his strategy, of course. "I can't talk about my private life either," he said with a blinding smile. Is there a tell-all book in the works? …
On the topic of seducing Katniss or Johanna as a ploy for triumph, Odair merely laughed. The serial flirt has been known to leave a trail of crushes in his golden wake. We also know that he has an appreciation for older women, as his former mentor and fellow Quarter Quell Victor Mags is by his side right now in the Cornucopia. With the Games ongoing, we wish District 4's best hope control and conquest.
This week we also got a peek at how the Capitol Elite celebrate The Hunger Games (Capitol Couture)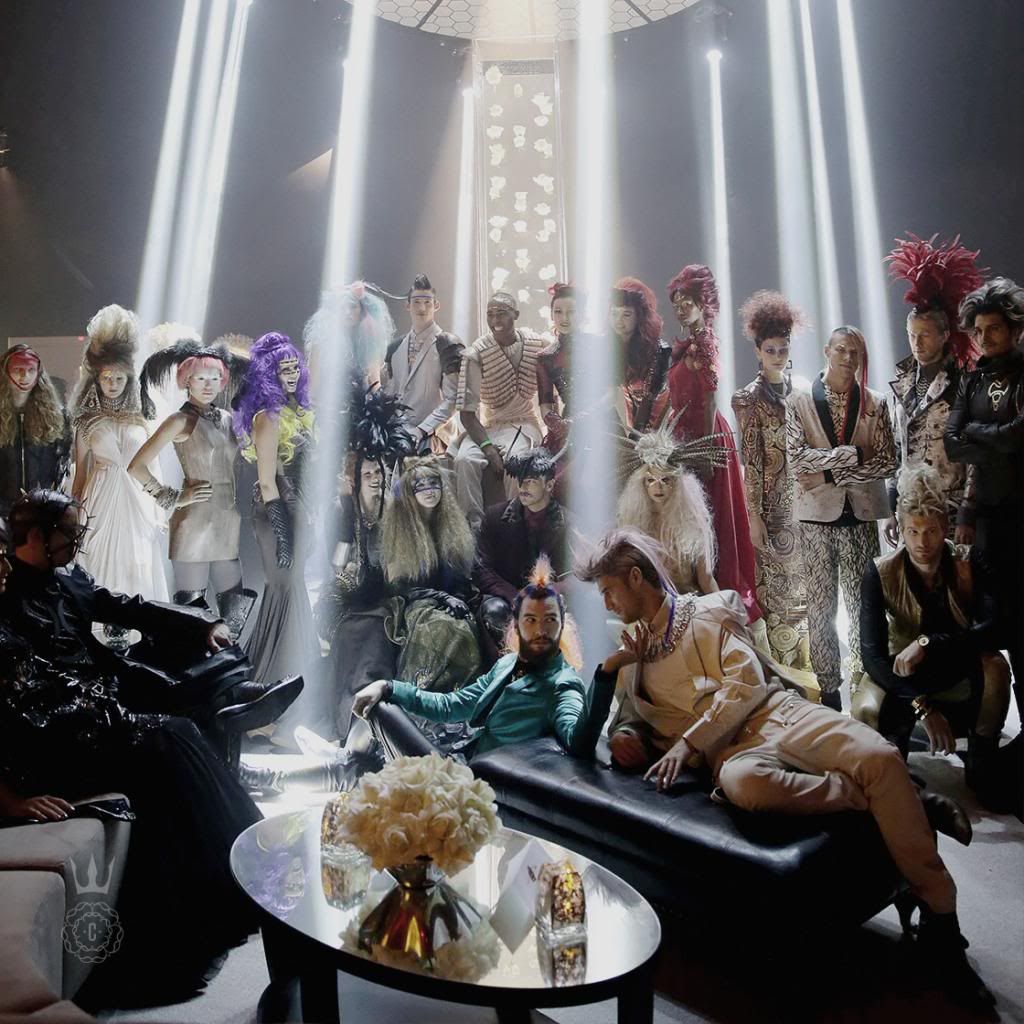 Our annual Panem-sponsored fete is reserved for the city's elite, hosting everyone from escorts to architects, engineers to artists. Here, the most cultured citizens swap gossip, exchange odds and even commiserate a bit over the passings to come. It's cathartic for us all to come together.
Outside, drummers of the tribute parade flank the red-carpeted entry way. Their thudding beats—like the reverberations of our hearts—echo throughout the night.  Inside, power cells in their beehive pattern dangle from the ceiling in a ring of dancing spotlights for those brave enough to occupy them, while thousands of President Snow's signature white roses languor in graceful bouquets on every surface.  Iridescent fish swim in upright centerpieces while guests gossip and feverishly discuss the Games, which are broadcasted at the front of the magnificent room.
Avox offer French macaroons and other delicacies from silver trays—sampled from a gluttonous spread over several long silk clothed tables. (I spotted one District escort eating dozens of light, meringue cookies, as she nervously watched her Victors onscreen.)  The sartorial trends are spot-on for fall, with feathers, leather, voluminous silhouettes and lots of hardware in full force.  
Lionsgate announced today that Robert Knepper has been cast as Antonius in Mockingjay Parts 1 & 2. I would be so excited if only I knew who that was! There's no Antonius in the book, so this is a character created solely for the films. Any clue as to who 'Antonius' may be? Speculate in the comments! (The Hob)
In this episode of MTV's "After Hours" Josh Horowitz quizzes Jennifer Lawrence on her pop culture obsessions.
Christina Aguilera talks about what drew her to sing for the CF soundtrack
Looks like it's time for another one of those parody movies. TBQH, I'm not a huge fan of these. None of them have been as funny and spot on as Not Another Teen Movie.. And guess who gets spoofed in The Hungover Games? What do you think? Does this trailer tickle your funny bone? Will you see this movie?
See you next week, Tributes!
May this weekend be ever in your favor!