See our Tributes in action!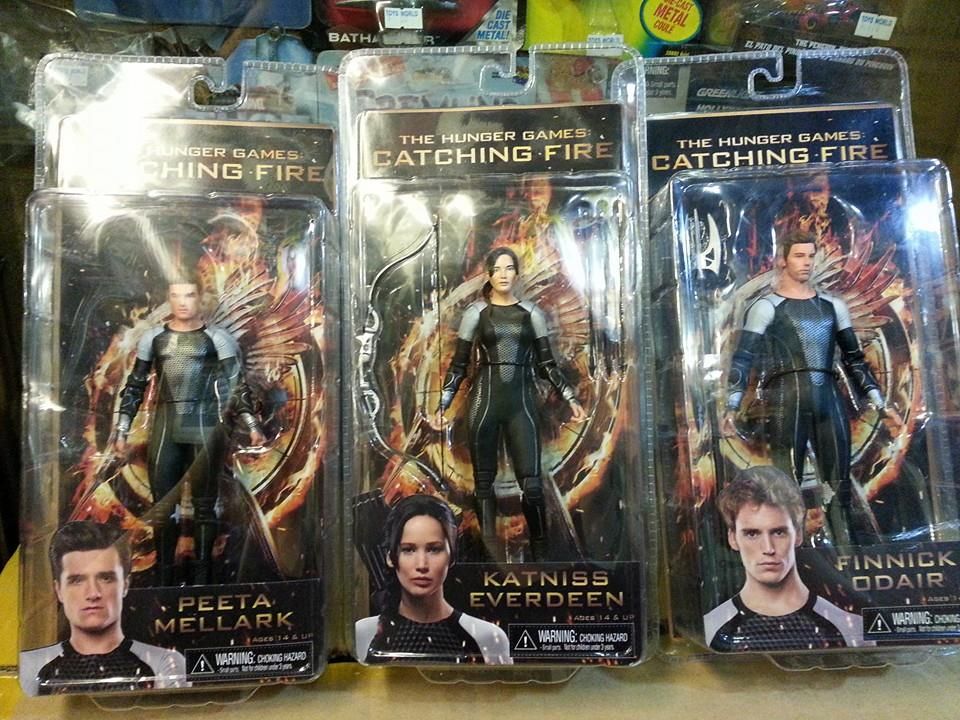 The figures stand approximately 6 3/4″ tall and are shown in their Quarter Quell uniforms. Katniss comes with bow and arrows; Finnick comes with trident. Figures will be available beginning November 1st . (thehob.org)
From Us Weekly comes the incredibly packed Hunger Games: Catching Fire Special Edition.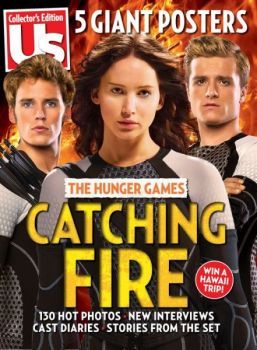 This Collector's Edition features 130 hot photos, stories from the set, plus, new interviews and 5 HUGE posters.
These new stills are sure to be among those 130!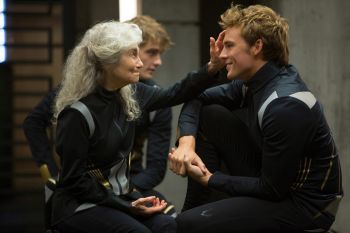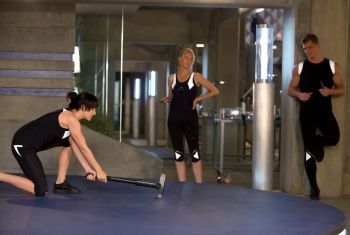 The magazine will be out on November 1, and can be pre-ordered from Barnes & Noble for $11.99. (hunger-games.net)
Starting TODAY The Hunger Games UK's official Twitter account will be holding a live Twitter Q & A session with The Hunger Games: Catching Fire star Sam Claflin.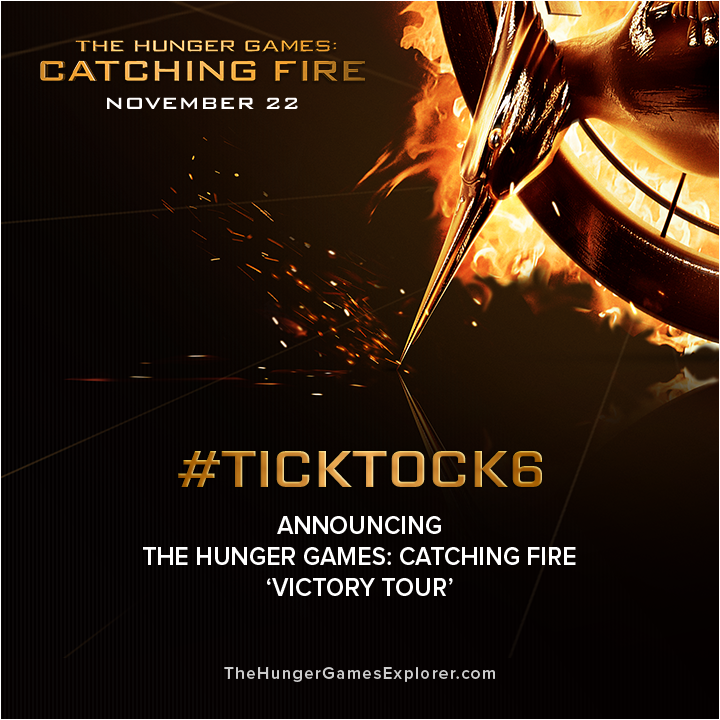 The newest from the Tick Tock clock! Lionsgate has announced The Hunger Games: Catching Fire's National 'Victory Tour' on The Hunger Games Explorer.
Members of cast will participate in special Q&As with fans, signings, and more in support of the worldwide release of the film in theatres on:
Sunday, 11/3 – PHILADELPHIA – CHERRY HILL MALL

Monday, 11/4 – MIAMI – BANK UNITED CENTER AT UNIVERSITY OF MIAMI

Tuesday, 11/5 – MINNEAPOLIS – MALL OF AMERICA

Wednesday, 11/6 – HOUSTON – BAYOU MUSIC CENTER
If you want to see your questions answered, tweet with #TickTock6 & your questions for the cast and you could see them answered during the Nov. 6th event!
That's not all! On November 6th fans around the world will be able to interact with talent all day through Google, Yahoo!, Tumblr, Twitter and Facebook. Six lucky fans will be chosen in advance to participate LIVE on air in a Google+ Hangout with the cast at google.com/+TheHungerGamesMovies. Enter HERE for the chance to win! (thehob.org)
An exclusive peek at the people behind the cuisine of The Capitol.
Not taste, not flavor, not fresh ingredients.
"Presentation is everything," says Priscilla Longhaven—President Snow's private chef—on what constitutes the most important part of a culinary delivery.  "Believe it or not, anyone can cook.  But it's the presentation that makes or breaks a dish."  
Tall and lanky with perfectly set sapphire curls pinned up off her face, Chef Longhaven looks more like an athlete than a cook.  She has served as President Snow's personal chef for close to four years and her finesse shows. As she capers around the vast kitchen, Longhaven manages to execute a perfect frosting rosette, flambe a banana and muddle mint leaves—all in one lap. This is a woman with an extreme eye for detail and the agility of an ibex.
"The petit fours are topped with a dollop of sea scallop custard," she says with a laugh, knowing the reaction of any diner.  "Everyone grimaces…until they try one."  When asked about the whole pig centerpiece, a glazed boar with a green apple in its mouth and a sugar candy bon-bon for an eye, she gives Capitol Couture a little inside scoop: "He wouldn't tell me why, but Plutarch Heavensbee himself requested that; he seemed to think it was quite funny."  
Next, it's on to meet Capitol mixologist Kim Stodel—who also creates libations at Bar Chloe—for a quick primer on how to make the "Girl on Fire" cocktail. Stodel, who moves like an octopus as he grabs ingredients, is known for playing with heat and sweet in his concoctions. "It's spicy and flammable, just like Katniss Everdeen," he says of his exclusive tipple. Try this recipe at home or ask your local bartender to make one for you:
GIRL ON FIRE
In a cocktail shaker tin, muddle:
1 thin slice of Serrano pepper
Add a few dashes of:
Angostura bitters
3/4 oz fresh lemon juice
3/4 oz simple syrup
1 & 1/2 oz gin
Add ice to the shaker and shake vigorously with a big smile.
Strain into a stemmed coupe glass that has been chilled.
Next, float 1/4 oz of Wray & Nephews overproof rum on top of the cocktail.
Strike a match and CAREFULLY bring to the rim of the glass to ignite the Girl on Fire.
What do you think, Tributes? Would you try this firey drink?
Want all the glitzy Capitol news? Follow Capitol Couture on tumblr!
See you next week, Tributes!