An official teaser poster for Mockingjay has been released! It is reminiscent of the flying bird on the book's cover, but as with previous posters, is golden and covered in flame.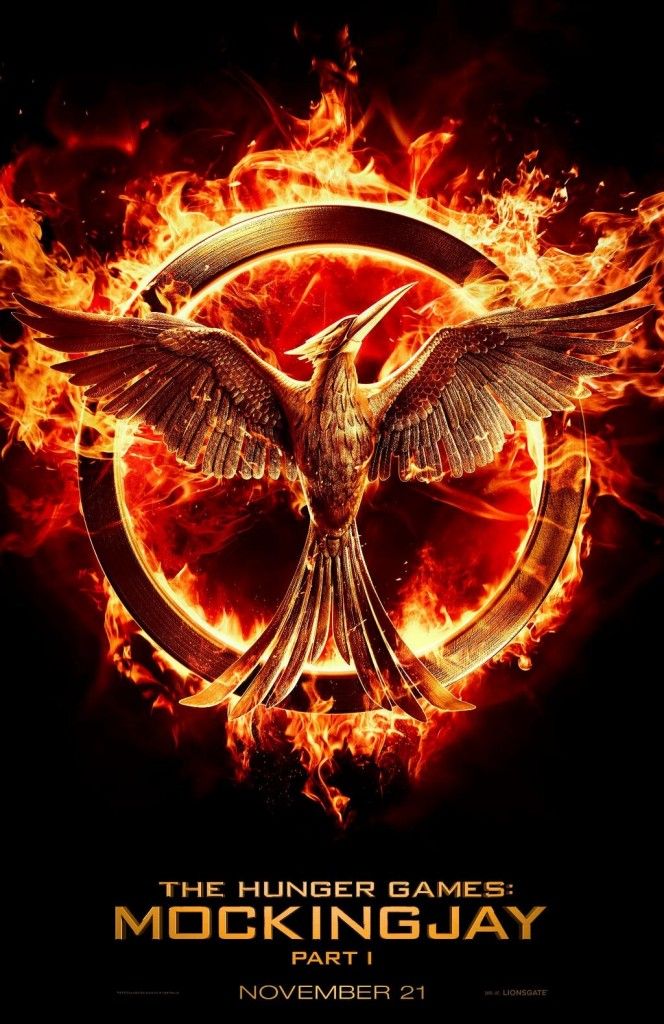 The Lionsgate team behind Mockingjay Part 1, including director Francis Lawrence sat down with Variety to talk about marketing for the new film, new shooting locations in Europe, Katniss and more! (The Hob)
On the marketing campaign for both Mockingjay films
"When we started, we decided to look at this as one big movie that's eight hours long," notes Tim Palen, the architect of Lionsgate's marketing effort. "Otherwise, it's going to be kind of overwhelming to do a new campaign for each movie."
On the new look at Panem
"We are going to new places," [Francis] Lawrence promises. "No one's ever been to District 13, and we have not really been in much of the Capital, so creating that is the really fun stuff."
On the Catching Fire of Katniss shooting an arrow at the dome
"Not since Luke Skywalker shot into the Death Star has one person had that kind of impact in a franchise film," asserts Lionsgate production president Erik Feig. "What I really love about how (the 23-year-old Lawrence) plays that character is that Katniss is larger than life and yet she wears her emotions in a very relatable way. She's not a superhero by any stretch — she's all too human in the face of extreme conditions — and she faces them with the presence of mind that we all wish we had."
On European filming locations
Lionsgate has even booked Berlin's massive Templehof Airport — built in 1927, reconstructed by the Nazis as a symbol of supremacy, and closed six years ago — and huge apartment complexes outside Paris for shooting battle scenes. Feig allows that part of the inspiration came from Stanley Kubrick's "Full Metal Jacket," his cinematic recounting of the 1968 Tet Offensive in Vietnam.
"Kubrick shot the siege in London," Feig notes. "In a weird way, we love the idea of urban sprawl. So we (looked for) big buildings that have been around forever. We kept coming back to classic war movies, and we started thinking we should look into Europe."
While on the red carpet for the SAG Awards, Natalie Dormer revealed her bold and daring haircut – half a shaved head – that was done for the role of Cressida in Mockingjay. She told  EW about her new look and the decision to only shave only half instead of her entire head. (The Hob)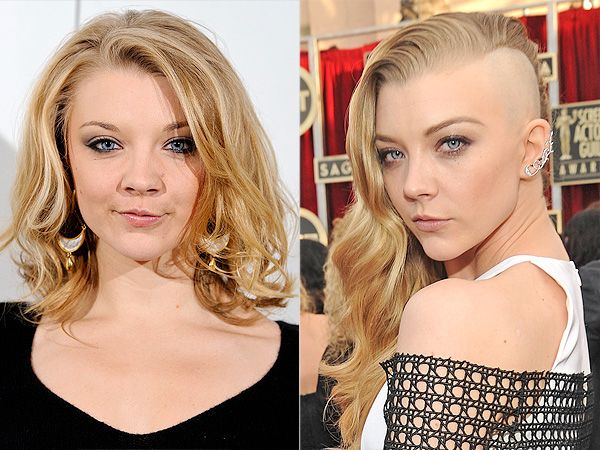 "It's been hidden for 3 months. It happened back in October. I was, you know, waiting for the right moment," Dormer told EW of her new 'do, which she got in preparation to play Cressida in The Hunger Games: Mockingjay. "I've never shaved my head before. My man has his head shaved, so… I'd rub it and think, 'This is gonna be me!'"
… "Francis Lawrence, the director of Mockingjay, and I discussed it and I took the job on the premise that I would possibly [have to] shave my whole head. I'm actually really pleased that we went halfway because I think it's more the Capitol… and that's where Cressida comes from," Dormer said. "She comes from the Capitol, so she's got a stylized thing going on and now she's turned rebel. I think it's right for the character.
In the video below, Natalie says that she "was a little bit nervous [about shaving it], because as women for some weird reason we have a lot of our identity bound up in our hair … But just to get rid of it was liberating."
W Magazine has released a new screen test with JLaw where she opens about her first audition, getting her role in Poker House, and her fall to get her Oscar.
Sam Claflin and Jena Malone are featured in the February 2014 issue of Empire magazine. They chat about their iconic Catching Fire roles and what happens with their characters in Mockingjay Part 1.
Sam on being chosen for Finnick
"I'm still surprised they've picked me … Every time I see Francis I'm convinced he's not going to know who I am … I mean, I'm not the Finnick in the book. I've got brown hair, a beard, I'm a bit overweight, not 24 and I'm not seven foot … I was fully ready for the fans to hate me!"
Sam on his character's development in Mockingjay
"I'm honestly so scared about saying anything at all, even though, as you say, the books are out there … But you do see more of Finnick. No, not like that. More of his reasons for being how he is. Oh, you know what I mean!"
Jena on Johanna's development in Mockingjay
"I think it's really interesting how she develops … It would be really boring if she was just this really bitchy person, but that's not who she is. She's pretty much an animal who's adapted, because she has to. Bitchiness is just a surface thing, but you start to see more what's underneath."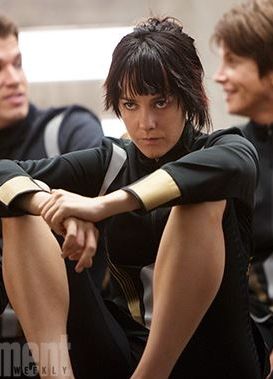 Jena on the Mockingjay storyline
"It's pretty amazing how much political sophistication Suzanne Collins put into this series that is also really entertaining … That clash of powers has to come to a head." (The Hob)
Jena Malone talks about stripping down as Joanna
"For me, it was one of the best introductions to a character that I had ever read," Malone said. "It was one of my favorite scenes to film because I think I was so nervous about it because it's so perfect and I wanted it to be absolutely perfect. When we got there, there were all these variables; we were shooting in a real hotel, in a real elevator, there's only 49 floors, it's only six seconds to do a full strip tease, there were all these things that weren't in the script. I was like, 'How do we do this?'"
And Liam Hemsworth confesses about why he began acting
Ve Neill, makeup artist & department head for The Hunger Games films, is also one of the judges on SyFy's incredibly creative reality competition show, Face Off. In an interview with Entertainment Weekly, Neill talks about working with the cast, crew, and the challenges of being a makeup artist for Mockingjay. (The Hob)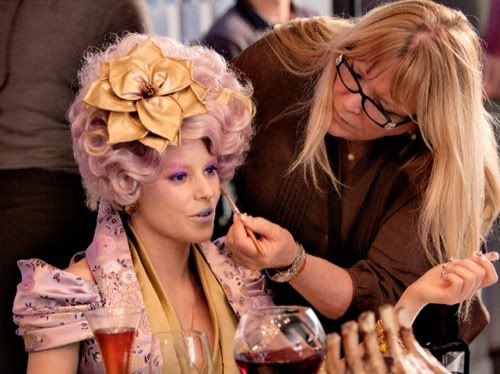 What's next in the Hunger Games movies and how do you help tell the story through makeup?
We're going into the third book, which is when they go to war. We have a lot of distressed looking makeups as opposed to glamour.
How big is the part of the Hunger Games makeup department that you oversee?
We have three makeup artists who are on all the time and we have one make-up artist who runs our tech unit, who works with us concurrently doing interior and pickup shots. She sometimes has fifteen people working with her. Right now we're doing stuff in District 13, so we have 20 extra makeup artists, and there are even more people in the hair department. We have a lot manpower because there are over 400 extras.
What's it like working with the stars of the movie?
They're all wonderful to work with. They all have children… well Josh and Jennifer don't, but a lot of our other adult principals have children and, of course, their kids are all really happy that their parents are working on the Hunger Games, so that's fun for them. We have a terrific director and we don't work hellacious hours. No 19-hour shoot days. They try to keep it to 12 hours so that everybody stays relatively healthy and rested.
Ve also raves about the cast of Mockingjay: "It's going to be pretty spectacular. Julianne Moore is on with us now as President Coin and she's great. We have quite a few new characters who've joined us … They're all wonderful to work with. Jennifer [Lawrence] and Josh [Hutcherson] are absolute dolls. It's nice to have a group of actors who enjoy coming to work."
Click EW to read more about Ve and about the new season of Face Off.
The date approaches! What do you think may be in store for us??
See you next time Tributes! And may the weekend be ever in your favor!