SPOILERS AHEAD FROM THE LIMITED SERIES THANOS VS. HULK SPOILERS
SPOILERS KIND OF FOR DAREDEVIL ON NETFLIX SPOILERS
SPOILERS FOR MARVEL MOVIES CAPTAIN AMERICA CIVIL WAR THOR RAGNOROK
SPOILERS READ ABOVE BEFORE YOU READ BELOW SPOILERS
SPOILERS DID YOU READ THE WARNING ABOVE SPOILERS
SPOILERS GOOD NOW YOU CAN OR CAN'T READ BELOW SPOILERS
SPOILERS AHEAD FROM THE LIMITED SERIES THANOS VS. HULK SPOILERS
THANOS APPEARANCE KIND OF DOES A VS HULK BUT NOT REALLY SINCE IT WAS FOCOUSED ON SOMEONE ELSE:
Talk about being misleading, the title for a 4 issue limited series called, "Thanos Vs. Hulk" was very misleading. As the title says, I expected there to be a story where I would be reading about a knock-down-drag-out fight between Thanos and Hulk for 4 issues. However, what I get is about one issue of a story that has to do with Thanos and Hulk and not much out of that is them fighting.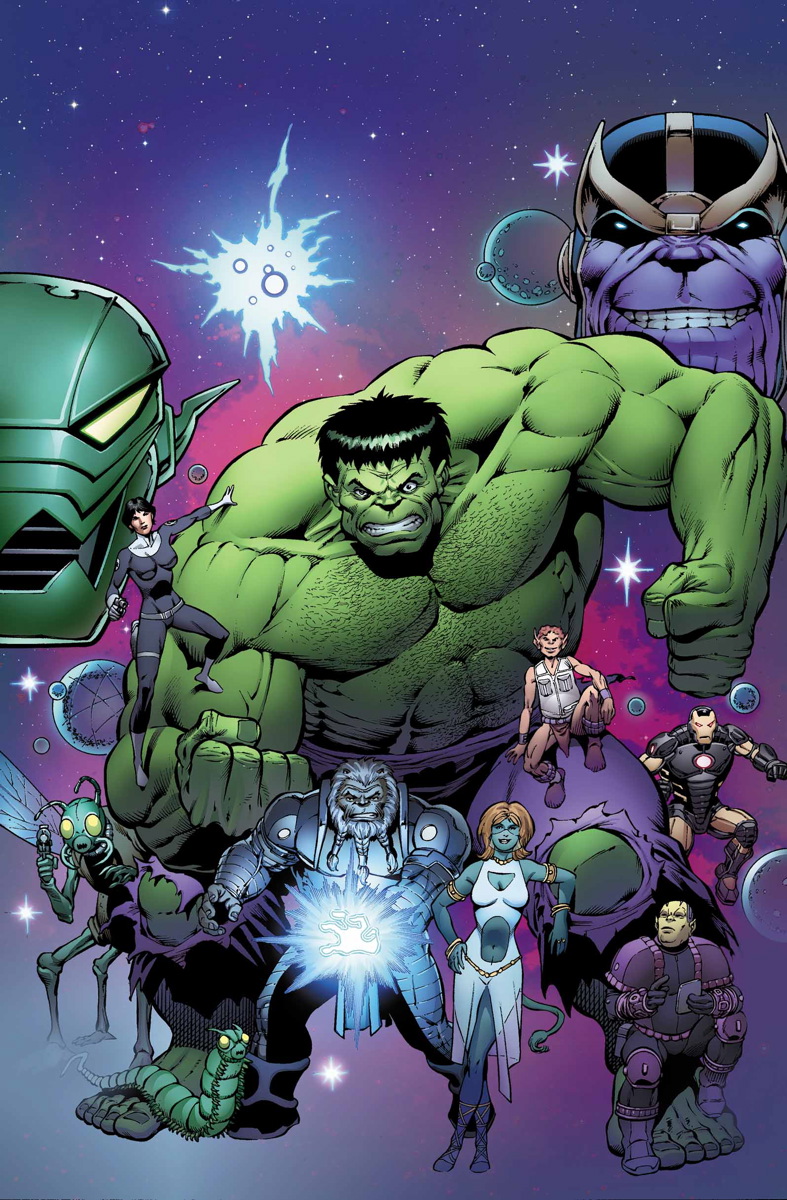 Here's the plot, Bruce Banner goes on a vacation from S.H.I.E.L.D., while on this vacation he is abducted by Pip the Troll and teleported to the clutches of Annihilus for at the moment unknown reasons. A device is used to keep the Hulk in a brain dead sleep where he enters into the mind of Bruce Banner, who is sitting on a purple globe, and the two are now trapped together for the first time in the mindscape of the purple globe. We find out that Pip has plans of getting the Hulk back so that the Avengers don't come after him but he will need the help of Thanos to do this. Believing that he has tricked Thanos, Pip stalks in the shadows as he waits for Thanos to go find the Hulk. Which Thanos does go find the Hulk, then have a short fight, and that's it for the Thanos vs. Hulk.  For a book that has a title that says the two are going to go against each other this one does not do that.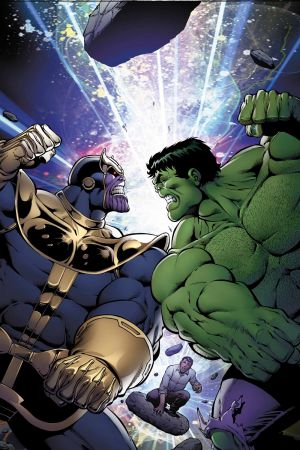 What this book is about is Annihilus trying to get something that is inside Bruce Banner that appears only at a certain point during the change from Banner to the Hulk. He wants to use this to turn himself into a Hulked out Annihilus, like any normal bad guy does really, but when I'm spending as much money on these issues as I am to read a story about Thanos and the Hulk fighting but I get a few pages out of 4 issues of that fight, yeah I'm not a happy camper. It's not that the book is not entertaining, it is, I did enjoy the story, but it's not what I paid for. I was looking to get a big fight between Thanos and Hulk, what I got instead was another story about how the Hulk is being used by a villain.
SPOILERS KIND OF FOR DAREDEVIL ON NETFLIX SPOILERS
SPOILERS READ ABOVE BEFORE YOU READ BELOW SPOILERS
SPOILERS DID YOU READ THE WARNING ABOVE SPOILERS
SPOILERS GOOD NOW YOU CAN OR CAN'T READ BELOW SPOILERS
THE MAN WITHOUT FEAR:
Are you watching or have watched the new Daredevil Netflix series? Hmm, at this point of writing it has not been put on the service site yet so I have not watched it. However, by the time I post this blog I should have watched most or if not all of the episodes. At first I was iffy with how this show was going to be, after-all the movie was not as good as I had hoped it would be. But, as time went by as it's used to doing, more and more promos came out for the show and I grew to get more excited about watching it. The latest in the series of promos is now getting to see what the red suit looks like and I got to say I'm now extremely stoked to see this show. Just take a gander at the man with no fear, Daredevil himself.
SPOILERS FOR MARVEL MOVIES CAPTAIN AMERICA CIVIL WAR THOR RAGNOROK
SPOILERS READ ABOVE BEFORE YOU READ BELOW SPOILERS
SPOILERS DID YOU READ THE WARNING ABOVE SPOILERS
SPOILERS GOOD NOW YOU CAN OR CAN'T READ BELOW SPOILERS
AND ANOTHER LOOK AT ANOTHER SUIT THAT HAS ME WANTING TO SEE THE MOVIE:
Thanks to Ryan Reynolds getting the Deadpool movie green lit and in production so quickly, we now have some filming photos that show Deadpool doing the Deadpool thing.
In this first pic, you can see the eye has some dots on it, that looks like to me that they are going to make the black/lens area of the mask move like in the comic, which I love, but will it look right as live action?
This one he's jumping over a wrecked suv. I'm thinking that in the movie the suv will be tumbling and Deadpool will jump over it. Then again it could be on it's side and he's just jumping over it.
And last one is just cause she is sexy and is in the movie, it's Morena Baccrin.
WHAT'S NEXT FOR MARVEL:
We are now just about 3 weeks away from the release of Avengers Age of Ultron (and Free Comic Book Day), so with that in mind I want to talk about what will be next for the Marvel Cinematic Universe. We pretty much got the knowledge of AoU, but what's next? There's Thor Ragnarok, Captain America Civil War, Guardians of the Galaxy 2, Inhumans, Avengers Infinity War, and my big one, Spider-Man.
Thor Ragnorok, what will happen in this and who is going to be the one to send the gods to their end? As the title says, Ragnorok, if you know what that means, you will know that it is the end of the gods/world so is this the time when they kill Thor? If so then who will be the one to do it? Most people assume it's Loki, considering his role in the films so far, there are even some that think that it could be Thanos, but I don't think it will be either of them. First off, Loki would also die in it so why would he do that? Second, Thanos is capable, it's even kind of plausible, but with Infinity War coming out in 2018 and Ragnorok coming out the year before, I doubt they would have Thanos used as a who film villain so early. Side note, not that I think this will have anything to do with the movie, but there is the clone of Thor called Ragnorok.
When it comes to Captain America Civil War I have a lot of questions. First off, will this be like the comic story? Yes, I know that most of it will probably be, but if you read it then you know the outcome of the story was the "death" of Steve Rogers but will this be used in the movie? Will it be the start of the movie or the end of it? As in will the movie start off with him being killed and then Falcon or Bucky taking over for the rest of the movie or will it go all the way till the end where he gets killed then and there will then be a new Captain America to be used in future films? Not only that but now that Spider-Man can be used in the Marvel movies will they put him in this movie? He was a major factor for the Civil War story as he was part of the group that first decided to reveal his identity and if you know anything about Spider-Man you know that he goes out of his way to make sure that don't happen (even though so many people do know). He was also working with Tony Stark/Iron Man, so will Tony be in it? Just how much will be used from the comic because there was a lot that happened and this could be a great or horrible movie.
As for the other films I mentioned, Guardians of the Galaxy 2, Inhumans, Avengers Infinity War, well they are far enough away that right now nothing is going to be known about it by the causal viewer or even the hardcore comic fans. We have ideas, especially since Marvel's Agents of S.H.I.E.L.D. is going to be the lead in for Inhumans and Infinity War will finally pit the Avengers against Thanos with the infinity gems, but beyond that anything can go for these films. I'm hoping that they all will be good, more so for the Inhumans because like the Guardians first movie people was not expecting it to be as good as it was and with it being a team/comic that is not as widely known/popular, it was one that could easily be one that gets swept under the rug. That could be the same for Inhumans but it's also these lesser known ones that when they end up being good they help push for more to be made and I'm ready for more and more.